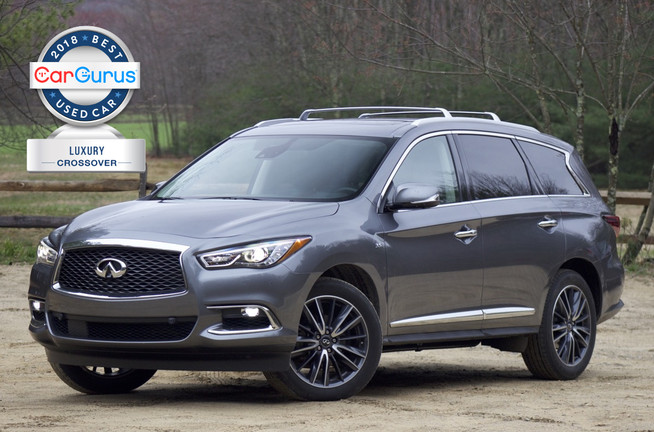 INFINITI QX60 wins CarGurus' Best Used Car Award!
The INFINITI QX60 seven-passenger luxury crossover has received the CarGurus' Best Used Car Award in the best luxury crossover category.
CarGurus' panel of experts and editors selected the 2014-2018 INFINITI QX60 for its powerful V6 engine and lavish interior. The QX60 ranked high in CarGurus' online reviews and won the Best Used Car Award in its segment with a score of 7.25 out of 10.
Based on CarGurus' analysis of long-term projected value retention, driver satisfaction, expert reviews and both model popularity and availability, the award was introduced last year by the automotive online marketplace to help car shoppers make smart purchases. Vehicles are evaluated on criteria including CarGurus user reviews, professional test drive reviews, popularity, availability and projected 12-year value retention, with the highest-ranking model named as the winner.
"We are thrilled that CarGurus named the INFINITI QX60 the best luxury crossover and acknowledged its lasting value and quality," said Jennifer Moser, Director Pre-Owner Strategy and Sales, INFINITI USA. "INFINITI is proud to have an excellent Certified Pre-Owned program and that our vehicles continue to perform like new throughout their lifetime."
The 295-hp INFINITI QX60 offers the best of both luxury and practicality. With a third row of seating, the spacious interior adjusts to customers' needs. The interior blends premium materials, comfort, design and ergonomics to create a beautiful and practical cabin.
INFINITI's Certified Pre-Owned program provides buyers with the exceptional experience of owning an INFINITI vehicle at a pre-owned value, combined with the peace of mind of having passed a rigorous 167-point inspection and up to six years unlimited mileage warranty. The INFINITI CPO benefits include complimentary first year basic maintenance, emergency roadside assistance, complimentary service courtesy vehicle and more. Service and warranty repairs are available through over 200 retailers nationwide, all delivering the INFINITI Total Ownership Experience, the philosophy and commitment to customer satisfaction.
credit; INFINITInews.com